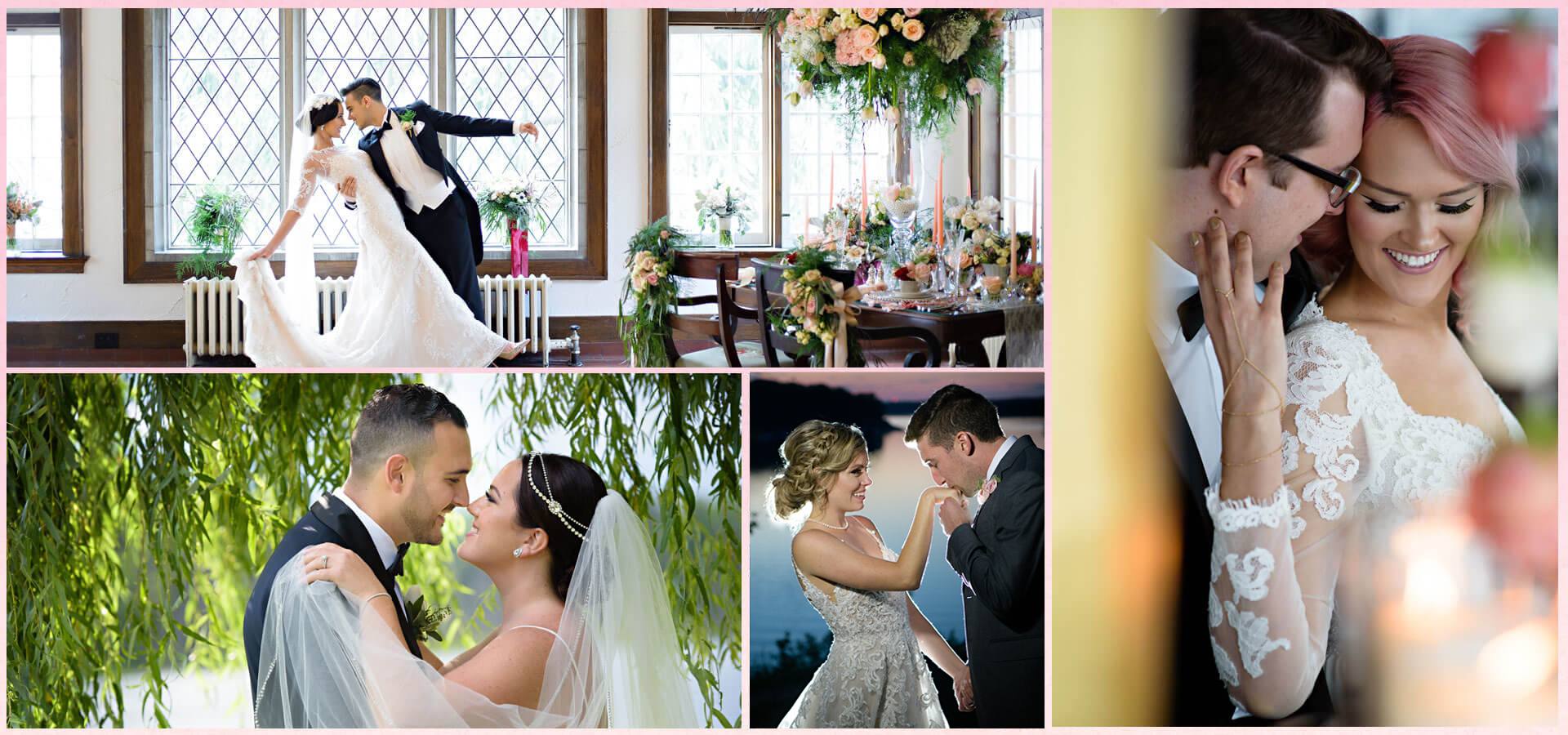 Our images are filled with joy and true to life colour. We are versatile and adapt to our couples and their wedding vision. Beautiful, Fun & Real images for real couples. We shoot a mix of fun candids and perfectly posed images to document the true essence of your wedding day! 
Of course! Typically photographers don't include these in their portfolios as they aren't particularly interesting to anyone aside from the people who are in them. That's not to say we don't take time & care with these images! At the end of the day, these are the images that will go in your family history book. We ask for a list of important combinations so we don't miss anyone. We don't want to make Grandma mad!
We take backing up our images very seriously! We head to a wedding with an arsenal of cameras & lenses (all high end Nikon gear) and have backups for our backups, literally - we bring multiple camera bodies, lenses and flashes to every job we photograph. Our cameras have double memory card slots so that while shooting, files are automatically being backed up. After the wedding your images are stored on a RAID server as well as off site backup.
Don't let clouds, rain, snow or any other wedding disaster damper your day. We have lots of suggestions & connections for indoor locations, come prepared with many, many umbrellas and have experience shooting in all lighting / weather conditions (ask us about that time we were photographing an outdoor farm wedding during a tornado warning!) Adverse weather can end up giving us opportunities for unique and dramatic photographs (don't start doing a rain dance... but just sayin')! 
All images are individually edited for colour, contrast and exposure. Album & print orders receive a second level of polishing. Our editing style is clean, bright & timeless. We strive for true to life colour - in both skin tones and surroundings. We want you to remember the joy & happiness of your day and not feel like your images are dated by technology.  Just because you CAN add a crazy instagram filter onto an image doesn't mean you should! 
We believe in quality AND quantity and there is no limit to the amount of pictures we take or deliver to our clients. The only complaint we regularly get is that "there were so many pictures to choose from that I couldn't pick my favorites". However, you don't need to choose because all the images are yours to keep! We do edit out blinks, exact duplicates and if you happen to be making an awful expression that you'd never want to relive. On average, you'll receive a minimum of 100 images per hour of coverage, but often much, much more.
Quality takes time, but we know how anxious you and your families are to see your amazing photos and relive every moment of your wedding day. Depending on our current workload, it can take anywhere from 4-10 weeks for your full gallery to be ready. Don't worry, we will provide some sneak peeks ASAP to tide you over!
All of our packages include edited high resolution files on USB and our clients receive ownership and full printing rights of their images. Go ahead – print them out as you wish!
Our standard payment policy is a 50% non refundable retainer to secure your date, 25% one month prior to the wedding and 25% when your photos are ready to release your gallery. Alternate payment plans can be arranged if necessary. Please inquire.